If you are looking for the
best web design company
to bring your vision into life and ensure the growth for your business, we are so excited to have you.
Qowwa Technologies is one of the best web design companies in Egypt. We work with entrepreneurs, startups and SMEs empower the ideas with high-quality functionality and appealing user interface to reflect the business goals, vision, and needs.
Our professional web designers work hand in hand with UI design and UX design team
to visualize your story and build trust with your clients and increase the revenue.
With a wide range of experience with international and local clients, we're able to provide you with the best web design experience in Egypt that fulfills your business needs.
Our web design services will maximize your conversions by customizing the website to be user-friendly with mobile as well as desktop users with professional, clean & handy style, also to ensure the security for your data with custom website design optimized for search engines.
Our mission is to build a website looks professional and inspirational to our clients.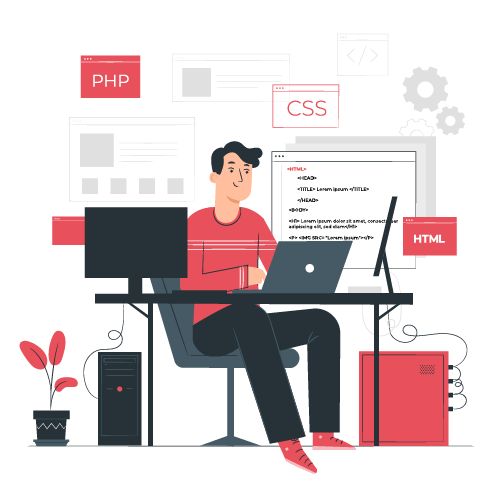 Our works
We design, build and support websites and apps for clients worldwide. We make your business stand out. Interested? Let's chat.
Frequently Asked Questions
Here are some of our most frequently asked
website design questions and answers.
Do you work with new and small businesses?
Yes! We work with all types of businesses – small, local, and new. With high focus on providing our clients the best website design in Egypt.
How long will it take to complete my website?
Our standard timeline is (4-6) weeks to complete a website design but this depends on the size of the project. If you have a deadline, we will work hard to meet it. In most cases, we need to know what you would like to accomplish and what your goals are. If you have a logo and brand already or not, and how much complexity features do you want on your site.
What do your web design services include?
Our website design services include elegant designs, maintenance, responsive websites for mobile and desktop users, SEO-friendly, Google analytics installation, CMS customization, corporate identity design and social media integration.
Do you provide web hosting?
Yes, our web hosting services include hosting images, videos, blogs, E-mails, and files to make the website accessible for visitors at all times with free SSL certificates.
Will my website be mobile-friendly?
Definitely! More than 50% of searchers globally now come from mobile devices. Our website builders work hard to make sure that your website is responsive to mobile and desktop users.
Do you only customize WordPress themes?
Yes, WordPress is our number one choice for the best content management system. It's the most popular CMS platform that powers around 35% of all websites on the internet. And it's still growing due to its flexibility and ability to build websites that suit any type of business. As a leading web design company in Egypt , we have a wide range of experience in working with WP themes to deliver the most custom website fulfils your business needs.
Will my website be search-engine friendly?
Yes, every web design company should consider that it's essential these days building websites that are optimized for search engines and visitors. We always build websites to be SEO friendly and all our designs are following search engine guidelines.
Will I be able to update the site myself when it's done?
Yes, as a leading website design company in Egypt, we would like to hear that our clients want to gain access to their website. You will have full control on the dashboard of your website to change text and media. The management of your products, orders, and pricing will be effortless.
Do you provide web development services for established websites?
Yes, we provide all services in website making, development, and maintenance to ensure that the website reflects the business.
How do we get started?
Feel free to contact us by email at info@qowwa.net with your website requirements. And we will schedule a meeting with you to further discuss your needs.
We would love to build your business website.
Feel free to drop us a message and let's have a chat about how we can help you to achieve your goals.